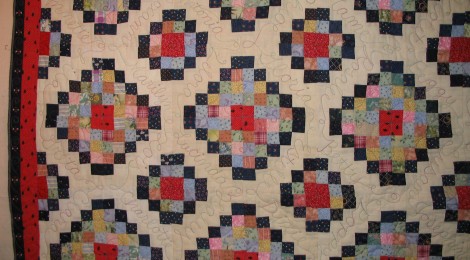 Postage stamp quilts
With just a single atom under your quilting belt — the square — you can make all sorts of amazing quilts, just by choosing where to place your colors (or not).   Seriously, you could spend your quilting lifetime just making quilts with squares if the merest hint of rectangles and triangles give you the willies.
I'm going to start our square quilt-viewing voyage with postage stamp quilts.  Buckle up.
While technically postage stamp meant 1″ squares (itty kabitty sqaures for those of you who don't make a lot of quilts yet), the term is often applied to a quilt composed all of squares of just about any size.  And if each of those squares is a different fabric, it's called a charm quilt.  [To confuse matters thoroughly, precut 5″ squares of fabric — usually in one fabric collection — are called charm squares.]
Here's a 1″ square postage stamp quilt I did for Kendra Allen.  It's a vintage top that I quilted for her and when you look closer you can see that the white areas are filled with grandmother names.  I would call this a trip around the world style quilt, because of those pretty diamond shapes, but the important part is the pattern is developed entirely with squares.  Itty kabitty squares.  Seriously the quilt is really heavy because like half of it is in seam allowances.
Isn't that cool?  The pattern you see is based entirely on what colors are placed where.
A more typical postage stamp quilt is below.  Well it's not entirely typical since it has sashing — long rectangles which are not officially part of our quilting atom playset just yet — but I love the layout.  It's a great contemporary rendering of a postage stamp style.
And of course, no discussion of modern postage stamp quilts would be complete without mentioning the scrap vomit quilt (and tutorial) on the blog monkey do.  You can see the picture below.  It's kind of a cross between the two quilts we've already looked at.
It is worth mentioning at this point that these quilts are by and large constructed in the most time consuming method possible, in that the squares are first cut separately and then each individual square sewn to another in long chains, rows, or blocks.  There are, of course, billions of other more time-effective methods (in Carl Sagan voice) that involve some sort of strip or strata piecing which are then cross-cut into strips that are squares already sewn together.
Postage stamp quilts tend to be of this ilk, beautiful and scrappy and very labor intensive.  But definitely worth it!  Here's one more to look at, with colors to make you swoon.  And if you want to see more quilts in the square category, be sure to check out my pinterest board with square quilts!